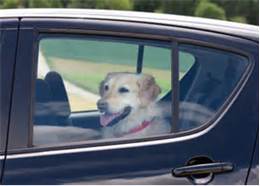 Posted By: Dan Messineo
dmessineo@klkntv.com
The Nebraska Humane Society in Omaha said they had to rescue a couple of dogs from parked cars during the record heat Tuesday. Officials said leaving your pet in a car during the summer weather can be fatal.
It's just the middle of May and Nebraska temperatures have already climbed to 100 degrees. Nebraska Humane Society officials said they've already received multiple calls of pets locked in scorching hot cars.
In a statement, Dr. Louise Murray from the American Society for the Prevention of Cruelty to Animals said never leave animals alone in parked cars. "On a hot day, a parked car can become a furnace in no time-even with the windows open-which could lead to a fatal stroke," Murray said.
According to the National Weather Service, during an 80-degree day, after the sun beats down on a car for just 10 minutes, the interior temperature hits 99 degrees and from there it skyrockets. After an hour, a car turns into a death trap with temperatures reaching to 123 degrees.
The Nebraska Humane Society said Tuesday that they rescued dogs from cars with interior of temperatures of 120 degrees. Officials said the best way to protect your dog during the summer heat is to leave them inside at home when running errands.
Officials said if you see a pet locked in a hot car to call the Lincoln Animal Control Office at 402-441-7900.