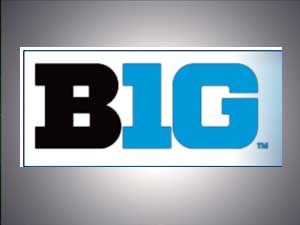 Posted by: Sports
The conference office announced on Saturday the bracket for the 2013 Big Ten Baseball Tournament, held May 22-25 at Target Field in Minneapolis, Minn. Indiana won its first Big Ten Championship since 1949 and is the No. 1 seed for the first time in the event's history.

Indiana finished the Big Ten season with a 17-7 record and will be playing in its fifth conference tournament in the last six years. The Hoosiers have won two Big Ten Tournaments, most recently in 2009. Indiana receives its highest seed since the tournament was first played in 1981.
Ohio State earned the No. 2 seed, finishing 15-9 in Big Ten play. The Buckeyes finished tied in the standings with Nebraska, but claimed the tiebreaker by winning their series against the Huskers. Ohio State will make its 26th tournament appearance, which is second among all Big Ten teams, and its third in a row. The Buckeyes have won eight conference tournaments, which is tied for second among all Big Ten teams.
Nebraska finished the regular season 15-9 in Big Ten play and is the No. 3 seed, making the Big Ten Tournament for the second straight season.

Minnesota earned the No. 4 seed in the bracket after finishing Big Ten play with a 13-8 mark and will make its 28th tournament appearance, the most in Big Ten history. The Gophers also lead the conference with nine Big Ten Tournament titles and 11 runner-up finishes.

Illinois claimed the No. 5 seed after finishing 14-10 during conference action. The Illini finished tied in the standings with Michigan, claiming the tiebreaker over the Wolverines by overall winning percentage versus Big Ten common opponents. The Illini are making their 19th overall appearance in the tournament and second in the last three years. Illinois is looking for its fifth Big Ten Tournament championship.
Michigan earned the No. 6 seed, finishing 14-10 in Big Ten play. The Wolverines will make their 22nd tournament appearance, which is third among all Big Ten teams, and first since 2010. The Wolverines have won eight conference tournaments with the most recent triumph coming in 2008.

Tournament action gets underway on Wednesday at 12:05 p.m. CT as Minnesota faces Illinois. Game 2 will begin at approximately 3:35 p.m. CT and will feature Nebraska and Michigan. Indiana and Ohio State will begin play on Thursday and will face the winners of Wednesday's games. All games will be broadcast live on BTN.

Source: NU Media Relations