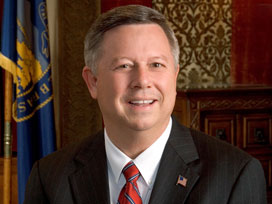 By: KLKN Newsroom
8@klkntv.com
OMAHA, Neb. (AP) - Nebraska Gov. Dave Heineman says he will not run for U.S. Senate, making the race to replace Republican U.S. Sen. Mike Johanns wide open.
Heineman made the announcement Saturday _ more than three months after Johanns announced he would not seek a second term in 2014. GOP attention immediately turned to Heineman, a popular governor who is restricted by term limits from seeking re-election. Heineman had recently said he would announce his decision before the end of May.
In a statement released Saturday morning, Gov. Heineman says:
"After careful consideration of all of the issues involved in a race for the United States Senate, I have decided to keep my focus on being the best Governor that I can for the citizens of Nebraska. Every day, I enjoy the challenges and opportunities of being the Governor of the best State in America.
We are going to continue to focus on tax relief and tax reform for Nebraska's middle class families, expanding job opportunities for Nebraskans, and improving Nebraska's education system by strengthening academic achievement.
I want to thank you, my friends, our supporters and the citizens of Nebraska for your encouragement and your support. You are very important to Sally and me.
A race for the United States Senate would distract from the State's priorities of tax relief, job creation and education.