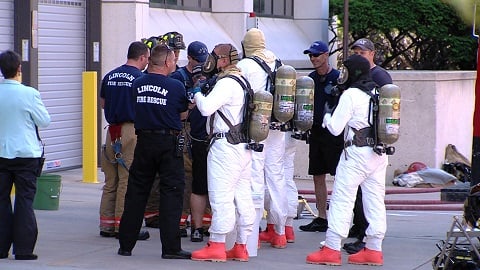 By: Megan Palera
mpalera@klkntv.com
There was a moment of panic Wednesday afternoon at the state office building in downtown Lincoln. The panic was over a suspicious letter with an unknown white powder inside.
Part of the building at 14th and M was closed off for about two hours while crews investigated. Fire and Rescue Battalion Chief Jeanne Pashalek says the letter was actually sent to the DMV office on North 46th Street. It was then delivered to the office downtown.
"They did the proper thing. They packaged it into a plastic bag, contained it and sealed it. And then it ended up over here at the state office building. The area inside - everybody was cornered off, evacuated from the immediate area and so no threat to the individuals," Pashalek said.
The good news is that no was in any danger. The Lancaster County Health Department ran a series of tests on the powder and determined it is not harmful.
Officials are still running tests to figure out exactly what the powder is made of. At this time, they still don't know who sent the letter.