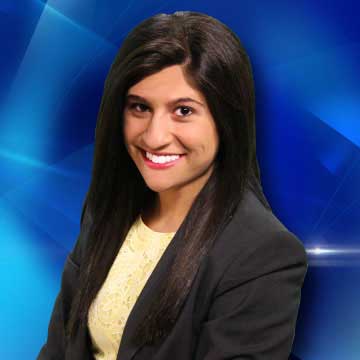 Lauren Fabrizi comes to Nebraska from Fairfield, Connecticut, her hometown. Living on the east coast gave her many opportunities to see plays and musicals in New York City, watching the tree lighting at Rockefeller Center and going to Yankee Stadium.
After writing and editing for her high school newspaper, Lauren knew that she wanted to pursue a career in print journalism, but something changed her mind and she decided to go to the S. I. Newhouse School of Public Communications on the campus of Syracuse University. "I've always loved newspaper writing, but with TV news, people can put a face to the byline and share a more personal connection with the reporter", Lauren explains. During her college days, she reported for the campus television station and interned at WTNH in New Haven, CT, WPBF in West Palm Beach, FL and CNY Central, Syracuse, NY.
After graduating from Syracuse University, Lauren joined the Channel 8 Eyewitness News Team at Channel 8 KLKN-TV. "I'm a northeastern girl at heart, but am ready to make Lincoln my home", says Lauren. She adds that she wants to help people and tell their stories in hopes that those stories will impact others.
Lauren values her family and friends. She says she has the best support system one can have. When she's not working, you might find her at a dance studio, relaxing in the sun or following her favorite New York sports teams.