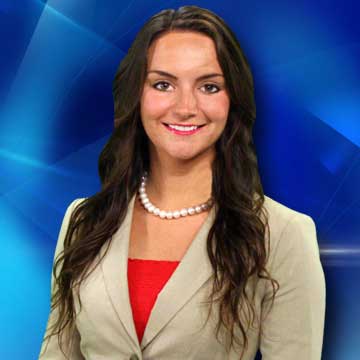 Camila was born in Stony Brook, NY, but calls Lincoln her hometown. When she was young she participated in countless plays and musicals at the Lincoln Haymarket Theatre. She even played Hamlet. She also enjoyed writing her own books, complete with illustrations and covers and started playing soccer as soon as she could walk.
Camila graduated from Lincoln Southeast and UNL, where she majored in Broadcasting. "I've always loved writing and thanks to my theatre experience, loved communicating to an audience", and she adds, "As I grew into my major, I found I have a passion for telling stories, giving a voice to the voiceless and meeting new people every day." While in school, she interned at KETV in Omaha and worked on the Star City News.
Camila started with the Channel 8 Eyewitness News in June of 2013. "I love how much I learn on the job...I get to meet interesting people nearly every day...I can't say enough about how much I love being a broadcaster, she says passionately.
Camila has taken a couple of years of boxing classes and secretly would like to become a professional boxer. She loves to run, exercise, play soccer and read. She also likes to cook, watch movies, playing with puppies and traveling.