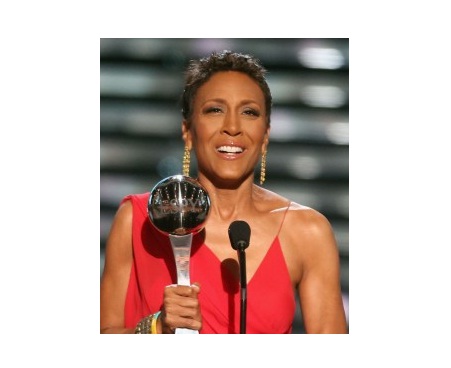 Posted By: KLKN Newsroom
8@klkntv.com
What a special night it was at the ESPYs Wednesday night. Good Morning America anchor and cancer survivor Robin Roberts received the Arthur Ashe Courage Award, one of the highest honors in all of sports.
NBA star Lebron James presented the award to Roberts followed by a standing ovation as she walked up on stage.
"I realize there are many worthy of holding this honor. Others who have exhibited far more courage, strength, and resilience, and it is humbling to me to represent you tonight. I draw strength from you, you give me the courage to face down any challenge. To know that when fear knocks, to let faith answer the door," Roberts said in her acceptance speech.
That contagious warmth was felt by First Lady Michelle Obama.
"The beautiful thing about Robin is that she treats everyone she meets with such deep respect and kindness," the First Lady said.
"When we feel we have adversity that hits us and we start to think about I can't or it's too hard or we can't do it, let's just think about this moment," Lebron James said.
Roberts also thanked her sister, Sally Ann, her fans, colleagues, doctors and nurses.