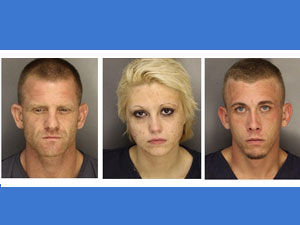 By: Channel 8 Newsroom
8@klkntv.com
According to Lincoln police, three people are facing drug charges after a confrontation at the Oasis Hotel on Cornhusker Highway Tuesday morning.
The Lancaster County Fugitive Task Force arrived at the hotel looking for 20-year-old Amanda Kage, who was wanted on several felony narcotics warrants.
Police say while Kage was being put into the police cruiser, they saw her motioning to two men, who took off running.
After a short pursuit, 36-year-old Jason Salkeld and 21-year-old Matthew Worrell were also arrested.
Salkelb, who is on parole, had 11.1 grams of methamphetamine and scales in his pocket. He is charged with Possession of a Controlled Substance with Intent to Deliver.
Worrell was found with painkillers that did not belong to him, and a small amount of methamphetamine. He is charged with Possession of Controlled Substance.