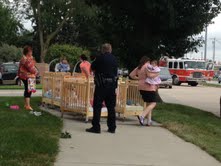 By: Lauren Fabrizi
lfabrizi@klkntv.com
Young Voices Child Development Center near 80th and O was evacuated Thursday afternoon after staff smelled a strange odor in the building.
Both Lincoln Fire and Rescue and Black Hills Energy arrived at the scene. Officials said around 50 children and 10 adults were evacuated from the building.
According to officials, the fumes came from glue on a new hot water heater. No one was injured or experienced any sort of symptoms.
"We notified all the parents to let them know their children were safe, and if they wanted to come get them that they could," Director Liberti Owens said.
"Naturally, we're exercising a lot of caution with the business of the daycare facility," LFR Cpt. Scott Wiebe said. "But we don't believe there to be any threat to any of the occupants that were inside the structure."
Workers were given the okay to head back into the daycare center around 2 p.m. Daycare staff said they will be open as usual.