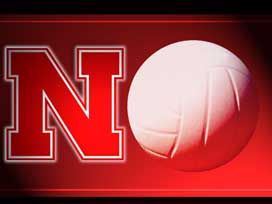 By Sports
Sports@klkntv.com
The Nebraska Athletic Department and the Big Ten Conference announced a total of 11 Husker volleyball matches will be televised or streamed online this fall. The Big Ten Network, which has been assigned all of Nebraska's television rights for all sports from the Big Ten Conference, will televise five conference matches during the 2013 season. In addition, at least six home matches will be webcast on BTN.com.
NET Television will announce its 2013 coverage of the Huskers at a later date. Other road conference matches carried on BTN.com are likely to be added as each conference school sets its Student U/BTN.com schedules.
In their first Big Ten Network televised match of the season, the Huskers will take on Illinois on Saturday, Sept. 28 in Champaign, Ill. The Huskers' home match with Minnesota on Friday, Oct. 4 will also be broadcast on BTN, in addition to the match on Oct. 23 when Iowa will come to the Devaney Center. BTN will televise Nebraska's Oct. 30 match against Illinois, and BTN will also televise Nebraska's trip to Minnesota on Sunday, Nov. 10.
At least six other matches this season will be webcast on BTN.com. The first match slated to be webcast by BTN.com will be a historic night as the Huskers play their first match in the Devaney Center against Villanova on Sept. 6. BTN.com will also webcast Nebraska's match with St. Mary's on Sept. 12, Dayton on Sept. 13, Indiana on Oct. 18, Purdue on Oct. 19 and Michigan State on Nov. 15.
2013 Volleyball TV/Webcast Schedule (subject to change)
Sept. 6 (7 p.m.) - Nebraska vs. Villanova (BTN.com)
Sept. 12 (7 p.m.) - Nebraska vs. St. Mary's (BTN.com)
Sept. 13 (7 p.m.) - Nebraska vs. Dayton (BTN.com)
Sept. 28 (4 p.m.) - Nebraska at Illinois (BTN)
Oct. 4 (7 p.m.) - Nebraska vs. Minnesota (BTN)
Oct. 18 (7 p.m.)- Nebraska vs. Indiana (BTN.com)
Oct. 19 (7 p.m.)- Nebraska vs. Purdue (BTN.com)
Oct. 23 (6:30 p.m.) - Nebraska vs. Iowa (BTN)
Oct. 30 (6:30 p.m.) - Nebraska vs. Illinois (BTN)
Nov. 10 (3:30 p.m.) - Nebraska at Minnesota (BTN)
Nov. 15 (7 p.m.)- Nebraska vs. Michigan State (BTN.com)