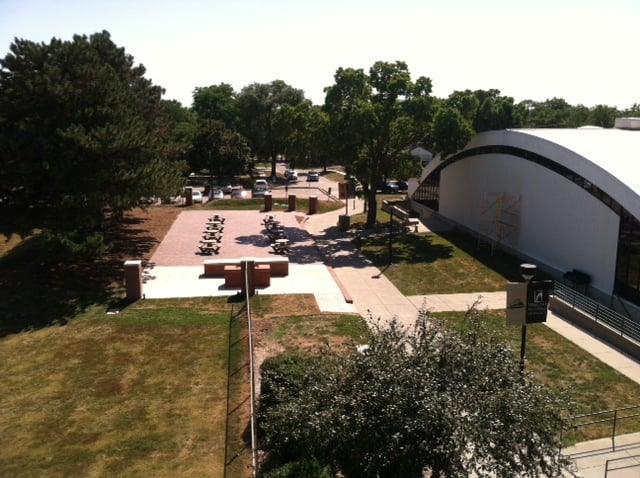 Posted by: Newsroom
8@klkntv.com

A new tailgate-area, just outside of Abel Stadium on the Nebraska Wesleyan University campus in Lincoln will be dedicated Saturday, September 7, prior to the first NWU football game of the 2013 season. It's a picnic-type area, outside the southwest corner of the stadium, near 54th and Huntington Streets, that is paved with brick and features concrete picnic tables, a grilling-station and serving-area. The new tailgate park is being named for Scott Bostwick, a former standout NWU football player and assistant coach and will be called "Bostwick Park". Scott was also an assistant football coach at Northwest Mssouri State, and in 2011, was promoted to the head coaching position there. Less than three months before his first game as head coach, he suffered a heart attack and died at the age of 49.

The new Bostwick Park, and an endowment to pay for an additional fulltime assistant football coach at Nebraska Wesleyan are both being funded by donations in Scott Bostwick's name. More than $80,000 has been raised for the construction of Bostwick Park and more than $150,000 has been pledged and donated for the coaches endowment fund. Bostwick Park will be used by the entire NWU community, and many other affiliated groups for a variety of events and activities throughout the year, including pregame football tailgate parties organized by the NWU Football Parents Booster Club.

Prior to NWU's 1 p.m. football season-opener against Tabor College of Kansas, Saturday, September 7, a private dedication ceremony has been scheduled at 11 a.m., with a public celebration following around Noon. A new field-turf surface was also installed this summer at Abel Stadium. All Nebraska Wesleyan University football games will again be broadcast this fall on KFOR-Radio (1240 AM).