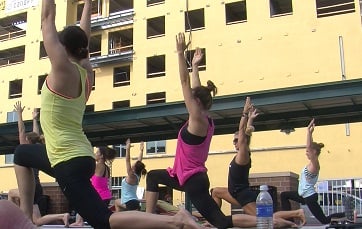 Posted By: Camila Orti
corti@klkntv.com
The Railyard went from a tailgating hotspot Saturday night to a calm zone for yoga Sunday morning.
About 30 people showed up to sweat in the West Haymarket.
The event is put on by Lotus House of Yoga here in Lincoln.
If you didn't make it today, you still have time. They will continue to host the exercise every Sunday in September from 10 to 11 a.m.
"I think it's great, it adds a new atmosphere to just being in the studio, you can kind of hear the birds and hear the cars and be outside and so it's actually a really cool experience," participant Becky Eby said.
There will be a new instructor every Sunday. The cost, besides maybe some sore muscles you didn't know you had, is free.