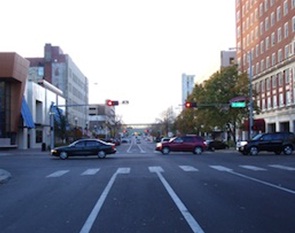 Posted By: KLKN Newsroom
8@klkntv.com
LINCOLN - The year-long "P" Street District improvement project began this week. The project area is along "P" Street between 11th Street and Centennial Mall as well as the east side of 14th Street between "O" and "Q" streets. The project includes a total redesign of the streetscape, parking and rights-of-way incorporating specialized lighting, plants and public spaces. Work also will begin on Civic Plaza at 13th and "P" streets this fall.
"As envisioned in the Downtown Master Plan, the project will create a vibrant atmosphere that makes 'P' Street a unique, must-see district," said Urban Development Director Dave Landis. "These improvements will help to build the retail core and generate enthusiasm for the future phases of redevelopment outlined in the Master Plan."
Landis said that along with the physical improvements, the project includes retail strategies and guidelines to help the City and the Downtown Lincoln Association (DLA) work with developers, business owners, residents and visitors. The improvements are funded mostly with tax-increment financing.
The project will move from west to east on the south side of "P" Street and then move to the north side. The demolition and concrete work on each block will take several weeks to complete, and lane and sidewalk closures will be necessary. The first closure will be the south lane of "P" from 11th to 12th streets. Access will remain open to businesses in the project area.
The project is scheduled to be completed in the fall of 2014. For more information, the construction schedule, updates and special offers from "P" Street businesses, visit the DLA's PStreetDistrict.com website.