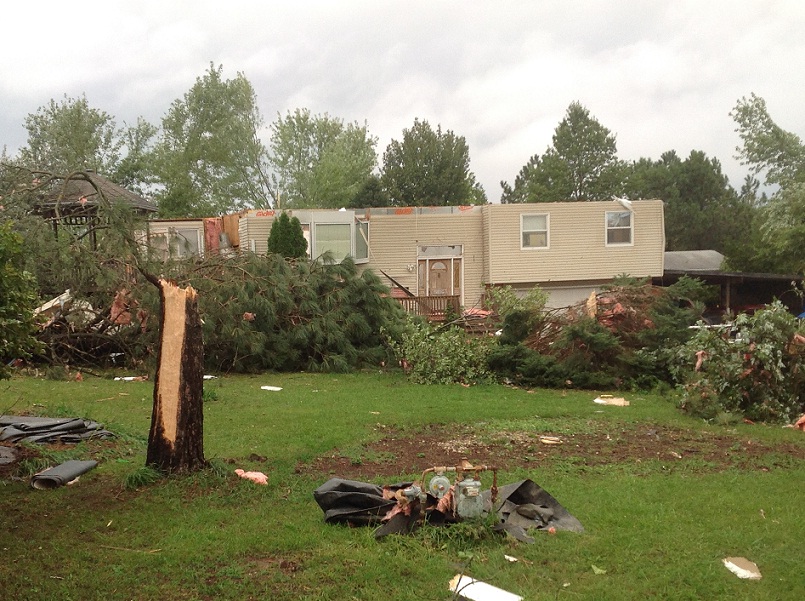 Photo Courtesy: Matt McDermott
By: Channel 8 Newsroom
8@klkntv.com
Severe weather began around 9 p.m. Thursday in southeast Nebraska.
Tornadoes were reported near Bennet, Hickman and Palmyra.
One rural Bennet family barely had time to seek shelter before a tornado hit their house. The home is located near 190th and Saltillo Road.
They also report the storm also hit another building and damaged a business that sells trailers in Bennet. There have been reports of a heavily damaged home near 150th and Wittstruck near Bennet, NE.
We've also had reports of damage to a home near 96th and Hickman Rd. near Hickman, NE. There is also heavy tree damage reported at Wagon Train State Park.
Hickman resident Sam Kaplan says he was in his home Thursday night when he looked out the window and noticed damage to his yard. Kaplan says enormous trees on his property are more than twenty years old. Now they are uprooted, some laying across his yard. Kaplan says he's fortunate.
No injuries have been reported from the overnight storms. Tornadoes occur in Nebraska most frequently in June. But records show twisters hitting the state in October as well. Records say 18 tornadoes were confirmed in October 2000, for example, and 11 in 2001 and 10 in 1998. The month with the fewest recorded tornadoes is February.
The National Weather Service says there's a likelihood of another damaging storm system moving into eastern Nebraska on Friday. Forecasters say the highest tornado threat appears to be in northeast Nebraska and west-central Iowa.