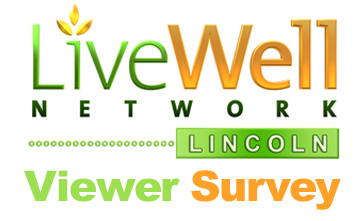 Now that Live Well Network Lincoln has been on the air for awhile, we would like to know what you think of it. Please take a few moments to fill out the survey below. Each person that fills out the survey will be entered for a chance to win a $100 gift card to "Best Of Big Red" in the Clocktower Plaza at 70th & A Streets in Lincoln.
All data will be kept confidential and only used for internal purposes. We will never sell your information to other outlets. We simply would like to know how we can improve the programming on Channel 8.2 - Live Well Network Lincoln.
Thank you for taking this brief survey. Your feedback is very important to us.
The Live Well Network offers a wide range of entertainment-based programs, including home decorating, fashion and beauty, food, health, outdoor adventures, travel and finance. For more on the Live Well Network, please click here.