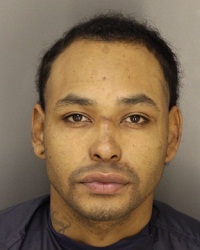 Posted By: Channel 8 Newsroom
8@klkntv.com
A man is in jail after offering a stranger a ride and then robbing them.
Capt. James Davidsaver with the Lincoln Police Dept. says the 21-year-old victim accepted a ride from the suspect, 28-year-old Rodney Phillips, around 5:30 a.m. Thinking Phillips was simply doing a good deed, police say the victim accepted.
After driving in circles, officials say Phillips stopped the car near 16th and D streets, where the victim offered him money for the ride.
"When he opened his wallet, our 'good Samaritan' suspect pointed a small silver handgun at our victim, stole all the cash that he had out his wallet," Davidsaver said.
Davidsaver says Phillips then forced the victim into a nearby apartment building where he was detained for several minutes before being released without injuries.
After contacting police, officials say the victim was able to point out Phillips' small silver car as it drove by. Officials pulled the vehicle over, and after the victim positively identified Phillips, arrested him for robbery.
Police say the weapon turned out to be a gun-shaped cigarette lighter.