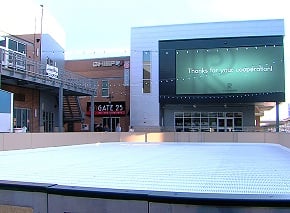 By: Bill Schammert
bschammert@klkntv.com
It may have been mid-60s outside on Monday, but The Railyard in the West Haymarket is almost in full winter mode.
Workers have started putting together the 45-by-95 foot ice skating rink that will take over the Railyard during the winter.
Even during those mild winter days, Railyard event manager Stephanie Warner says a special cooling gel runs through the pipes below the ice to keep it frozen.
"There really isn't a whole lot for kids and families to do during the winter months, you're kind of stuck inside. So this is a great chance to get out and burn off some energy," Warner said.
The rink is set to open on Saturday.
Skating is free, but ice skate rentals are $6.00 for children and $9.00 for adults.
For more information, including hours of operation and special event details, head to the following website:

http://skatetheyard.blogspot.com/