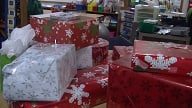 By: Jenn Hatcher
jhatcher@klkntv.com
Lafaya Helmstadler is someone who always gives even though she barely has enough to provide for herself and her 3 children. Lafaya works at Clinton Elementary School as a para-educator. Because Lafaya works with many children who live in poverty she does everything she can to try to help them out as much as possible. Many of the children who attend Clinton spend time outside of school with her, as she provides a safe house for them. She feeds them and even takes them to Northeast sporting events. Lafaya is known to go above and beyond to do her job and to help her students.
Lafaya is a wonderful mother and always puts her children first. Her eldest daughter, Destiny, is a freshman at Northeast High School. Destiny resembles Lafaya in that she is a hard worker and is friendly to everyone that she meets. Destiny is in the gifted program at Northeast High School and is tries to stay involved with her school. Her son, Mehki, is a 3rd Grader at Clinton Elementary. He is very respectful boy who is responsible and a good friend to all of his classmates. He works hard on his homework and tries to help out his mom as much as he can. On Mother's Day he decided to walk around the neighborhood and offer to mow people's lawns to earn money to buy Lafaya a Mother's Day present. Lafaya's youngest daughter, Kahlia, is 2 years old. She is a typical 2 year old who has a lot of energy and likes to play with the neighborhood kids. She follows her older brother around and loves it when her older sister babysits.
Lafaya has always tried to do what is right. She barely makes enough to pay rent, much less to supply her family with basic needs through the month. The children are a part of the Food Bank's Back Pack program. Help for the Holidays is a much needed relief for Lafaya. The children do not ask for much and understand that money is tight in the family, therefore, being able to watch her children receive gifts that they've only dreamed of brings much joy to Lafaya.
Our Magic Moment was a surprise to Lafaya and her children. Lafaya and her family were met after Lafaya got off of work at Clinton Elementary by her nominating co-workers, Santa Claus, and our Magic Moments team. Lafaya received a new outdoor grill complete with necessities and a meat package with spices and sauces. Lafaya received a family photo session and a gift card to purchase clothing for the session and photos after the session. Lafaya also received a mani/pedi just for herself. Destiny received a pair of Bear Paw boots, a Columbia Fleece, an Infinity scarf and a set of 8 nail polishes. Mehki received an outdoor basketball hoop, a new Under Armor basketball and pump, and a PSP 3K bundle with 3 family fun games. Kahlia received a play kitchen with pots and pans, a Little People Play Home, a Little People School Bus and extra Little People with pets. The family also received a 1 year membership to the Lincoln Children's Museum and the Lincoln Children's Zoo as well as gift card to CVS for household items.