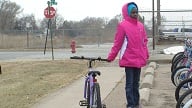 By: Jenn Hatcher
jhatcher@klkntv.com
Hundreds of Lincoln kids are now cruising on two wheels.
Saturday afternoon Lincoln Mad Dads held their annual bike giveaway.
Each year the organization allows local fifth graders to pick out a bicycle the organization repaired.
The youngsters are presented with hundreds of bikes ranging in size, color and style.
For many of the kids it's the first bike they've owned.
"The minute them kids walk out that door and they get their bike and that smile from ear to ear, that's all I need." Says Davey Green with Mad Dads.
"It's definitely a new experience, it's just amazing," says fifth grader Markeis Jones.
Fifth grader, Sharon Tshieln adds, "I was excited because there was a lot of bikes and I picked the one I wanted."
For kids who were unable to attend Saturday's event, they'll be able to pick up a bike at a later time.