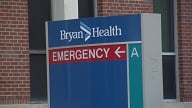 By: Jenn Hatcher
jhatcher@klkntv.com
Should you go to the emergency room?
It's a question you hopefully won't be faced with but should you need medical treatment this holiday, It's good to know your options.
Dr. Tadd Delozier says it's the time of year when many face illness and may want to seek medical attention.
Unless it's an emergency, it might be easier to tide the illness over with over the counter medication.
But Delozier says take notice when the symptoms are strange.
"Sometimes you don't know for sure what the problem is but if you have family members that are concerned they should be evaluated just to play it safe," says Delozier.
If it's a questionable injury or illness contact the doctor's office on–call practitioner or an ER nurse.