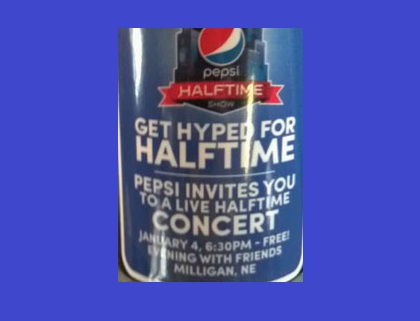 Posted By: Jenn Hatcher
Jhatcher@klkntv.com
If the rumors are true, residents in Milligan will be treated to a superstar concert Saturday night. It's all part of a t-v commercial by Pepsi that would air during the Super Bowl.
Officials in Milligan say Pepsi has posted several soda machines dispensing free cans of Pepsi along Main Street. Also, the cans of Pepsi invites residents to attend a free concert Saturday night as part of a half-time celebration.
The York High School principal says their band and pep squad will be performing in Milligan as part of the commercial. He says the town of Milligan was chosen as the site for the commercial because Milligan is half-way between Los Angeles and New York City. At 6:30 p.m., a "big time musical act" will perform a free concert, outside, in downtown Milligan.
Jenn Hatcher is on her way to Milligan and will have much more tonight at 5 & 6.