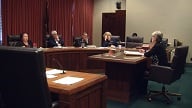 The Heath and Human Services Committee continues to monitor the progress of child welfare through a variety of mechanisms including the annual Child Welfare Reports Status report(available by following the link below).
Report Link: http://nebraskalegislature.gov/FloorDocs/103/PDF/Agencies/Health_and_Human_Services_Committee/449_20131220-113433.pdf
The HHS Committee will held a briefing on Thursday.
The briefing included updates by Thomas Pristow (Director the Children and Family Services), Julie Rogers (Nebraska Inspector General of Child Welfare), Kim Hawekotte (Director of the Foster Care Review Office) and Karen Authier (Chairperson of the Nebraska Children's Commission).
The purpose of the briefing was to:
Review with the testifiers the various reports issued by their Office/Commission;
Receive an update of current activities of their Office/Commission;
Highlight any child welfare system issues they have observed;
Be apprised of plans regarding future activities by their Office/Commission