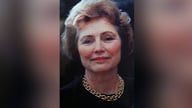 By: Jenn Hatcher
jhatcher@klkntv.com
Family and friends remember the life of a former Nebraska lawmaker.
Jennie Robak's funeral was Friday at First Plymouth Congregational Church.
Robak's daughter, Former Lieutenant Governor, Kim Robak describes her mother.
"She was ahead of her time, she was a trailblazer and just really a wonderful woman."
Jennie was killed last Friday, the victim of a car-pedestrian collision.
Kim says, "The hardest thing is that you don't expect to lose someone so quickly."
Former senator Doug Kristensen served as speaker of the legislature during Jennie's time at the capitol; he says she was someone who could always get her point across.
"She could do it with a joke, with a laugh, with a funny story or some really cynical comment and that was the beauty of Jennie Robak," says Kristensen.
Many said Jennie would have loved her service and joked she probably would have been dancing in the isles.