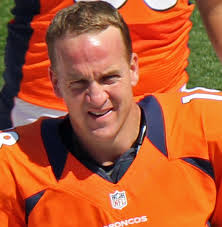 Posted by: Newsroom
8@klkntv.com
OMAHA, Neb. (AP) _ Peyton Manning's foundation for at-risk youth will receive a $24,800 donation for all the times he shouted ``Omaha!'' during the AFC championship game Sunday.
The donations were organized by the Greater Omaha Chamber of Commerce after Manning's 44 pre-snap ``Omaha!'' calls during the Denver Broncos win over San Diego received national attention.
Eight Omaha companies combined to donate $800 to Manning's ``Peyback Foundation'' for every time he yelled the city's name during the Broncos' victory over the New England Patriots.
The participating companies are ConAgra Foods, First National Bank of Omaha, Mutual of Omaha, Omaha Steaks, Cox Communications, CenturyLink, Union Pacific railroad and DJ's Dugout Sports Bar and Grill.
Anyone traveling to Omaha this spring could benefit if Peyton Manning shouted ``Omaha'' at least 50 times in Sunday's AFC championship game. The Denver Broncos quarterback said ``Omaha'' 44 times in last week's game. The Broncos defeated the New England Patriots on Sunday to claim the AFC title.
The Hotels DOT com travel site said it would offer a 15 percent discount on Omaha hotels through June 1st if Manning yells about Nebraska's largest city at least 50 times. Five Omaha companies have also pledged to donate $500 to Manning's foundation for at-risk youth for every time shouted ``Omaha.''
Information from Associated Press