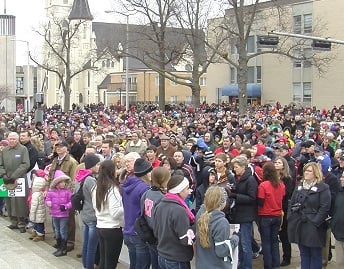 Posted By: Camila Orti
corti@klkntv.com
The 40th annual Nebraska Walk for Life drew more than 4,000 people to the Capitol Saturday morning.
The event is put on by Nebraska Right to Life to protest the legalization of abortion. Participants walk an 8-block route from the Capitol to UNL's Student Union where the event concluded with keynote speaker Emily Horne.
Governor Dave Heineman and other elected officials participated. There were also Pro-Choice protestors voicing their opinions.
"I just want women to have a choice, it's not about babies, it's not about fetuses, it's about women," Pro-Choice activist from Omaha, Jamie Brown, said.
"The babies who are out there, they need a voice and we're here to stand up for those people who don't have a voice," Pro-Life activist Jason Bissell said.