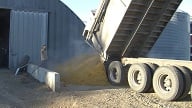 By: Jenn Hatcher
jhatcher@klkntv.com
A House plan to make major cuts to food stamps would be scaled back under a bipartisan agreement on a massive farm bill, a near end to a more than two-year fight that has threatened to hurt rural lawmakers in an election year.
There's a boost in money for crop insurance popular in the Midwest, higher cotton and rice subsidies for Southern farmers, and a renewal of federal land payments for Western states.

The compromise is expected to cut food stamps by about $800 million a year, or around 1 percent.
In September, the House passed legislation cutting 5 percent from the $80 billion-a-year program.

The Senate had passed a bill with $400 million in annual food stamp cuts.
The House could vote on the bill as soon as Wednesday and the Senate, sometime in the next three week.
The bill would then go to the presidents desk.