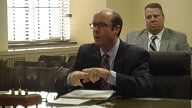 Senator Burke Harr of Omaha is pushing a bill that would stiffen the penalty for anyone who uses a fake gun during a crime.
"When you go in and you're using that gun to intimidate the other person and now I (the victim) have to sit there and say 'Is that a bb gun, is it a real gun? Is it a starter gun?' We don't want to put our victims in that situation; we don't want to re–victimize the victim," explains Harr.
It seems some prosecutors have to drop the "use of a firearm to commit a felony" charge because victims are unsure if the perpetrator's gun was even real.
This becomes a big problem when a gun is not recovered.
"Under the jury instructions, if we don't have the gun or the intended victim can't testify that it was a firearm, we lose that capability to prosecute," says Douglas County Attorney, Douglas Kleine.
Those against the bill say the original charges cover the time a criminal should serve and that adding more time to their punishment will not help Nebraska's jail population problem.
"The problem that we have is that this gives the state another opportunity to stack another use charge," explains Chris Eickholt, who opposes the bill.