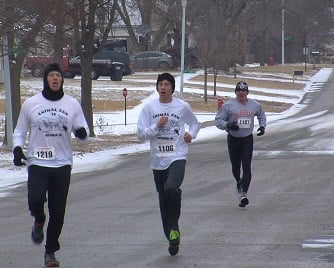 Posted By: Camila Orti
corti@klkntv.com
It may be February, but that didn't stop hundreds of runners from braving the cold in Hickman Saturday morning.
It was the 31st annual Animal Run – a Hickman tradition sponsored by The Voice News that raises money for a different cause each year. This year, 250 runners raised more than $5,000 for the Nebraska Game and Parks Commission.
The money will go toward rebuilding the Wagon Train Lake rec area that was damaged by a tornado in October.
State Park representatives say they appreciate the help.
"It'll help pay for the cost of replacing one of the restroom facilities, and the participation on this level is a wonderful benefit," Jay Woltemath with Neb. Game and Parks said.
Woltemath says the tornado took out 75 percent of Wagon Train's trees as well as a few restrooms and a picnic shelter.
The race included two and five mile routes.