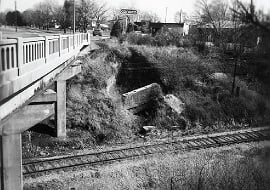 By: Jenn Hatcher
jhatcher@klkntv.com
The public was invited to an open house Thursday on the replacement of the historic Penny Bridges on Sheridan Boulevard just west of 33rd Street.
"They're one of the worst bridges condition wise, in town," says project manager, Devin Biesecker.
The Penny Bridges were built in 1934 to carry Sheridan Boulevard traffic over the old Rock Island railroad, which is now a trail. The bridges were built on both sides of a wooden trestle which carried streetcar tracks over the railroad. "Originally if you crossed the bridge on the street car you owed another penny fare and that's why they're Penny Bridge," explains, Ed Zimmer, the cities Historic Preservation Planner.
At the open house, residents learned about the need for the project and its historical significance. They also had the opportunity to view maps and photos of current conditions, ask questions and discuss concerns with the project team. Many attendees seemed in favor of a new structure very similar to the one already standing. "I think it's an important kind of historic site in Lincoln…I especially like the feature of having two bridges there, separate bridges with railings," shares Benjamin Rader, who has lived in the area for 40 years.
The design team will now begin developing and evaluating construction concepts. The design process is expected to take about one year. Construction will depend on the availability of funds for the project.
More information can be found here.