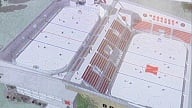 By: Jenn Hatcher
jhatcher@klkntv.com
There's another bump in the road for the anticipated Breslow Ice Complex.
It's been about six years since John Breslow donated $7 million for a Lincoln ice complex.
The West Haymarket Joint Public Agency is looking to help the project by granting university regents a $2 million contribution.
But Tuesday, the agency's vote on the resolution was tabled until early March.
"I think that while this tugs at the heartstrings of everybody and while we want to provide opportunities for everybody, we also have to realize it's money," says JPA Member and Regent, Tim Clare.
The Breslow Ice Center would be built in the West Haymarket between the Pinnacle Bank Arena and Haymarket Park.
The JPA says it needs more hard numbers, facts and proof of revenue potential before it votes.
Clare says tough questions need to be answered now because his regent colleagues will be asking the same questions.
The regents are expected to vote on approving the project on March 21st.