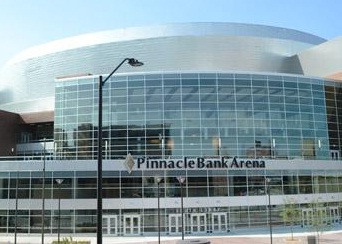 Posted By: KLKN Newsroom
8@klkntv.com
(Lincoln, NE) – Pinnacle Bank Arena officials announced Cisco Connected Stadium Wi-Fi has been installed and tuned so that fans attending events at Pinnacle Bank Arena will have free public access to reliable and ubiquitous connectivity.
Cisco developed Connected Stadium Wi-Fi to address the connectivity problem created by dense
environments and clusters of people at facilities like arenas. Connected Stadium Wi-Fi is a turn-key
combination of Cisco's leading wireless technologies, specialized software and professional services
optimized for venues where tens of thousands of fans are gathered. It extends real-time, reliable access to applications and services on mobile devices simultaneously.
Tom Lorenz, General Manager at Pinnacle Bank Arena, said "Cisco is delivering technology that is proving to be an unforgettable fan experience. We are delighted our new network is up and running. To connect to the new wireless system, fans just need to look for the SSID 'FanXP' and connect. Touring events and productions can now enjoy seamless Wi-Fi access as part of our ongoing commitment to maintain Pinnacle Bank Arena as one of the premier entertainment venues in the world."