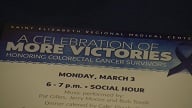 By: Jenn Hatcher
jhatcher@klkntv.com
March is Colon Cancer Awareness Month. Monday night, Saint Elizabeth Regional Medical Center hosted a "More Victories" event to honor colorectal cancer survivors. Motivational guest speaker, JoAnne Owens-Nauslar, Ed.D shared an inspiring message on Tests, Treatment and Humor.
Abbey Schnell, a 27-year old survivor, shared her many "victories" throughout her cancer journey. Abbey was diagnosed with colon cancer at only 25-years-old, just after the birth of her second child. She endured months of chemotherapy, radiation treatments and surgeons had to remove 13 inches of her colon and rectum. Schnell says, "If I would have waited any longer it would have definitely been a lot worse."
Knowing your body and the warning signs is the key, explains Cancer Nurse Navigator, Hilary Michaelson, "The biggest thing is really just early detection. Colon Cancer can be very treatable if caught early and that why we just encourage getting those screenings."
A list of warning signs can be found here.
Event guests also participated in creating a "More Victories" quilt. The squares will be sewn together to make one large quilt, displaying the impact of colon cancer. The quilt will be displayed in the community to raise awareness for the far-reaching disease.
Watch Larry the Cable Guy on his trip to get his first colonoscopy: http://www.saintelizabethonline.com/coloncancer