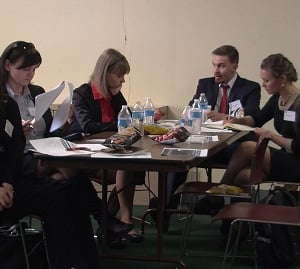 By: Bill Schammert
bschammert@klkntv.com
A group of parliamentary staffers from Ukraine is in Lincoln this week, sharing their experiences and reflecting on the crisis at home.
"It's really scary," Svitlana Lychak said through an interpreter. "Burning tires, flying grenades, shootings. It's emotionally troubling."
Lychak, describing the scene she saw in Kiev just about a month ago, is here with four other delegates from Ukraine.
Maksym Khlapuk is a student and a scientist. He was also in the middle of the protests.
"Just imagine an ordinary boy or girl, a student," he said. "Going up against specially trained elite forces, it's totally unfair."
The five delegates all work in different facets of government in Ukraine. They're here as part of The Open World Leadership Center.
"First hand experience is the best we can get," Lychak said. "That's why we want to talk to senators and people here in Nebraska."
The program was established to bring future leaders from former Soviet republics to the United states to learn about democracy.