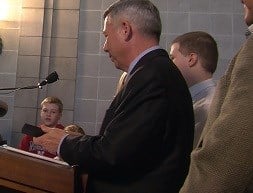 By: Jenn Hatcher
jhatcher@klkntv.com
Under a new state law, an estimated 1,000 Nebraskans will receive insurance coverage for Autism therapies.
"I'm so grateful to everyone for everything they've done," parent Colleen Jankovich said. "It means there's a future in our state for our children and that's all that matters."
Jankovich's son Matthew is autistic.
As Gov. Dave Heineman signed the bill into law Monday afternoon, his autistic buddy Jacob was standing right by his side.
The new law allows for up to 25 hours per week of covered therapy until the insured person turns 21 years old.
Sen. Colby Coash spent years trying to get this bill passed.
"As much work as I put into it, it pails in comparison to the amount of work you as parents put in on behalf of your children," the senator said. "Simply because you're moms and dads and you just do that for your kids, how could I not work hard for you?"
Due to the emergency clause, the law is effective immediately. Sen. Coash says the new funding will cost the average Nebraskan about 7-cents more per month in insurance costs.