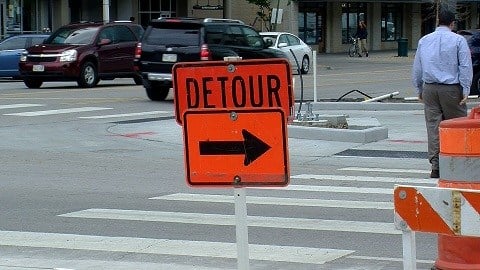 By: Jenn Schanz
jschanz@klkntv.com

Since August, P Street has been decorated with lots of orange and white. It's all part of an effort to give it a facelift, by widening sidewalks, and putting in new lighting and planting.

For the most part, area businesses are on board.

"It's a very nice concept, it's going to be a great improvement for Lincoln and P Street," says Blaine Braziel of Husker Headquarters.

But the project, which stretches from 11th to Centennial mall along P Street, isn't without its obstacles; for businesses along P Street, the biggest challenge that construction poses is giving their customers access to their store.

"It's always a concern that you need to have your customers be able to get into your location," Braziel says.

Husker Headquarters' entrance was blocked for a day while construction took place.

The project got off to a slow start, so to make sure it stays on track, the city is putting in an extra $29,000. That will pay for a faster drying concrete mix, extra crews, and overtime.

Milestone dates, or new deadlines for certain areas are also part of the change.

Much of the project must be done by August 29th or the contractor has to pay $1,000 per day they go over.

"This is a temporary headache but the results of this... it'll be great. And it'll tie into the Centennial Mall Project and the Civic Plaza Project and it'll be a real showcase for the community," says Kris Humphrey of Engineering Services for Lincoln.

The contractor, Hausmann Construction, is also throwing in some extra cash, bringing the total cost to just more than $4.5 million.

But city officials say once everything is complete, it will be worth the price tag.