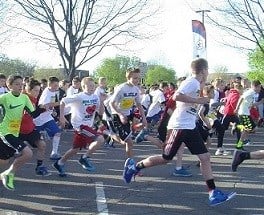 Posted By: Channel 8 Newsroom
8@klkntv.com
The 27th Annual Mayor's Run kicked off Marathon weekend in Lincoln.
Organizers say it's the biggest children's race in the Midwest. About 3,000 kids participated in this year's fun run around the Capitol. Sixth graders and younger were invited to run the mile-long course beginning at 8 a.m. Race Director Linda Brown says the goal is to promote health and fitness.
"This is a great family event because it's a way for kids to start when they're young with their parents and get out there and run with them," Brown said.
"I like it because you get exercise and you can get fit!" 9-year-old Kasey Jones added.
One dollar of every entry this year was donated to Forever Angels, a nonprofit group that supports kids and families with serious medical conditions.