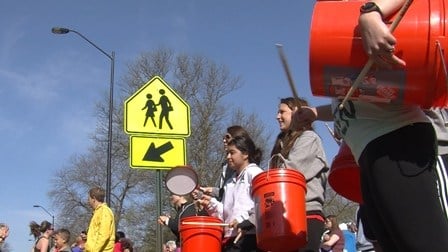 By: Hannah Paczkowski
hpaczkowski@klkntv.com
They came with cowbells, pom poms and drums, spectators showed their support for the Lincoln Marathon runners.
"It's a way to give back to the Lincoln community by cheering on those runners and tell them they're doing a great job, " Abby Schoening said.
Some are cheering for a cause. Pat McCollinster of Omaha is showing her support for the runners from Project Purple. It's an organization dedicated to raising awareness for Pancreatic Cancer.
"It's a blast, but I think I should've been training because my arm's getting tired," she said.
Just a few blocks away, near 10th and South Streets, a group of spectators were cheering on their friends who raised thousands of dollars for people with cancer. Nearly 50 runners from Team in Training raised more than $97 thousand for Blood Cancer research. Their cheerleaders were decked out for the occasion.
"At this point is really when you want to sit down, 'nope I want off the ride,' so we're here to cheer them on and say you can do it and really celebrate what they've done for the organization as well," organizer Kristi Mitchell said.