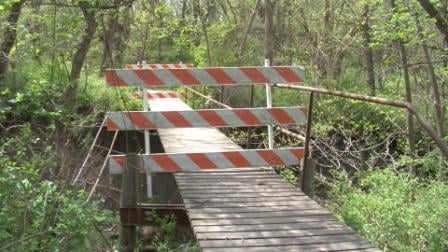 By: Lauren Fabrizi
lfabrizi@klkntv.com
Lincoln Parks
& Recreation officials are certain vandals have targeted a major bridge on the trail between 1st and Old Cheney Road and 14th and Rokeby Road.
The entire handrail on one side is completely dismembered from the bridge. A few weeks ago, part of the handrail was damaged. Officials said they were in the process of repairing it, but on Monday, they got a call that the whole handrail had fallen into the creek.
Officials said they believe someone must have intentionally messed with the railing, causing the bolts to loosen and the steel trusts to snap.
"This bridge serves one of the largest areas of the park for hikers and bikers, I'm thinking somewhere around three and a half to four miles of length," Terry Genrich of Lincoln Parks & Recreation said. "They can start from one parking lot and get to the next parking lot. There's really no other access from one point to another."
The bridge is now barricaded for safety purposes. For the time being, Genrich said to use the Jamaica North Trail instead.
It's unclear how long it will take for the handrail to be repaired, and Genrich isn't sure how much it will cost to replace it.