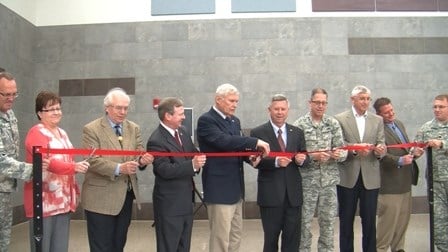 By: Hannah Paczkowski
hpaczkowski@klkntv.com
The Nebraska Army National Guard's Mead training site is ready for action. Gov. Dave Heineman and other state and local leaders cut the ceremonious ribbon for the new Titan Readiness Center.
"Anything that's state of the art sometimes really enhances the training environment," Capt. Terry Zastrow said.
The nearly $10 million facility will train more than 100 soldiers, learning everything from basic weapons, squad operation and jumping out of planes.
"Having the soldiers here and the parachute riggers means we'll be more efficient so soldiers won't be spending their time driving to and from training," Maj. Gen. Daryl Bohac, Nebraska adjutant general, said.
The base in Fremont is closing. In July, nearly 50 soldiers from Fremont will go the new center ready to train in Zastrow's troop. At the facility in Mead, the soldiers will get real hands-on experience like adjusting to weather conditions and different environments. Zastrow said that will ultimately help his soldiers in the field.
"It brings reality and realistic training environment to the soldiers instead of a plain computer simulations and stuff like that," he said.
The Titan Readiness Center connects to the Atlas Readiness Center, which opened in July. Both facilities will offer training to the Nebraska Army National Guard.