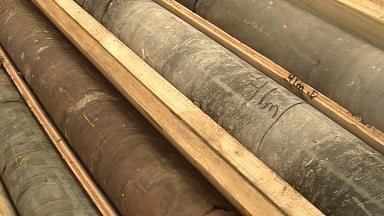 Posted By: Jenn Hatcher
jhatcher@klkntv.com


ELK CREEK, Neb. (AP)- Many southeast Nebraska residents hope a Canadian firm will eventually build a mine to extract a rare mineral used to make steel from deep beneath the ground, but they're not counting on it.

Nearly 100 people who live near Elk Creek attended a meeting Wednesday with top officials from NioCorp Developments to hear about the possible niobium mine.

NioCorp resumed drilling samples from beneath the ground near Elk Creek last month for the first time since 2011. There are two drilling rigs working on the site.

The U.S. imports nearly all the niobium that's used in this country to harden steel and make it more heat-resistant for industrial uses. NioCorp previously estimated that more than 100 tons of niobium rests several hundred feet below the ground, but it's not yet clear whether a mine will be built. "Every metal body on an automobile in the entire world is made with niobium based steel," explains Niocorp CEO, Mark Smith.

Eldon and Esther Buethe own some of the land being explored by NioCorp. They think a mine would be good for the area if one is built.

But many area residents have been hearing about the prospects for a niobium mine for several decades, including a previous company that explored the site for years before abandoning it.

That's why even project supporters try not to get excited about it at this stage.

Lanny Heidemann is one,"I'm excited but it's been going on for 40 some years so the excitement comes and goes."