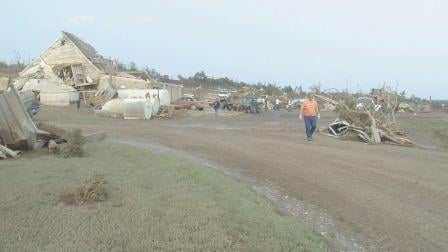 Posted by:
JENN Hatcher,
jhatcher@klkntv.com
KLKN Newsroom,
8@klkntv.com
Residents will be allowed back into Pilger later this morning, after the entire town of under 400 people is evacuated.
"I got to see something today I wish I never would have seen," Stanton County Sheriff Michael Unger says, "Quite an event to see up close when an actual tornado goes by and then to see the devastation."
Elizabeth
Gustafson says her family lost a horse barn and shed.
"We never thought this would be us," Gustafson says, "My kids came out and they were all crying, all the trees that were down and all the windows in our shed."
Gustafson says there was good news, their house is okay and both their ponies and all their baby chicks survived.
"It's kinda hurting to see those barns go down but we have our lives so we are very fortunate."
Much of the mess in town has yet to be seen because of the mandatory evacuation. The situation leaves many residents itching to start working on their homes and help their neighbors rebuild.
Residents are told to meet at the ball fields this morning to re-enter the town. Gov. Heineman also planning a tour of the area just after 10.
We plan to be there and bring you all that coverage throughout the day.