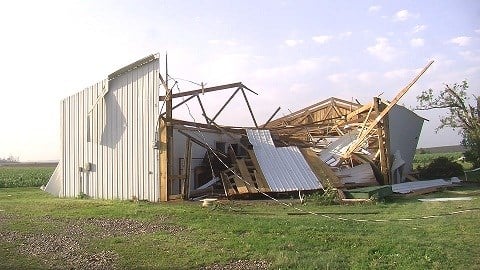 By: Jenn Schanz
jschanz@klkntv.com
It was near Coleridge. A massive tornado barely missed the town.
Unlike Pilger, thankfully there was just one injury, but there wasn't a shortage of damage. Home video of the tornado shows it coming within a quarter mile of Coleridge Tuesday night..
It hit just one day after a devastating double twister wreaked havoc on Pilger, killing two people. This one hit about 45 minutes north of there.

10–15 farmsteads in the area were hit hard, knocking over grain bins and irrigation equipment and leveling machine sheds. After that, the tornado shifted southeast, barely missing Laurel and Dixon.

"Far more unpredictable and so slow–moving. One of the reports we had was that it was moving at 2 miles an hour," says George Hefner, Coleridge Fire Chief.

While the twister barely missed the town of Coleridge, strong winds did leave their mark on the baseball field, scattered tree limbs everywhere, and did some serious damage to area businesses. Luckily, officials say only one person was injured.

Residents in Coleridge last saw a tornado back in 2003, but they say Tuesday's was more intense, and seemed to last an eternity.

"Very unusual, because usually most of these storms are driving 30–40 miles an hour across the countryside and this one. Here, I think they said it took 10 miles in 2 hours. It was like it never went nowhere," says Brad Penlerick.
He guesses he's facing around $40,000 worth of damage to his business.