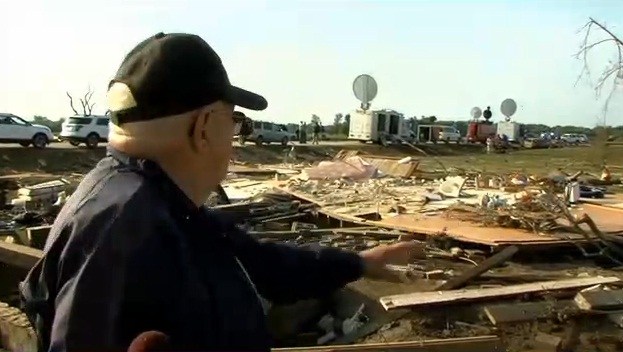 By: Vanessa Brown
vbrown@klkntv.com
Pilger took a direct hit from an EF4 tornado, powerful enough to uproot major trees and twist metal.

"You don't have minutes, you have seconds," said Marilyn Andersen, whose home survived the storm.

What's left behind in this small Nebraska town, many describe as a war zone, brought on by a double dose of nature.

Ben McMillan, with Iowa Storm Chasing Network, witnessed dueling tornadoes form. They both turned out to be EF4. In total, four EF4 twisters would hit the Stanton/Pilger/Pender area, all from the same supercell.

"It's something I've never seen before, it has occurred in the past, but it's incredibly rare," McMillan said.

Village Chairman Jim Duncan lost the only home he's known since 1945. He saw the tornado coming and took cover with his sister and nephew.

"There's no partitions in the basement, so we stood in the middle – window popped out – the house was gone." Covered in debris and a bit beaten up, they made it out together.
There was another fortunate tale, just one door down.

Larry Nelson, a 22 year resident of Pilger, didn't have much of a basement. When he heard the sirens go off, he decided to walk right across the way to neighbor Marilyn Andersen's house to take shelter. His was leveled, hers is still standing.

"It was right here. That's the floor there. Part of the roof is there and few side walls here," Nelson pointed to the ground as he showed Channel 8 the destruction.

Nelson lost his walls, along with his birth certificate, but he found pictures and true friends.

"Real good neighbors, we help each other out," he said.

Andersen was equally thankful he survived the storm.

"I prayed, I prayed very hard that we would be safe and I think God granted my prayers," she said.

The town was nearly wiped off the map, but the spirited community will no doubt rebuild it.