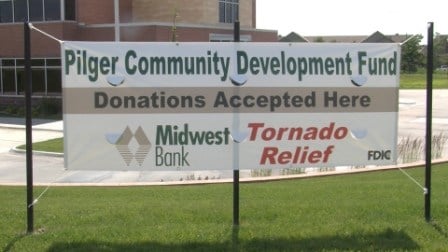 By: Lauren Fabrizi
lfabrizi@klkntv.com

Pilger might be two hours away from the capital city, but a number of people and organizations are showing those affected by the storms are certainly in their thoughts.

Numerous fundraisers have been set up since Monday. One is through Midwest Bank. Each branch throughout the state has a donation pool.

The president of the Lincoln branch said about thirty people have already contributed here.

"They've been walking in, they've been coming through our drive through, and we really appreciate that," president Brian Wolford said. "We know the folks in Pilger really appreciate that."

There will be another fundraiser Saturday put on by Cornhusker CrossFit. Those in charge are recommending a minimum donation of $20 to participate in their workout session from 8 a.m. to noon.

"We're doing functional training and exercise that will help people prepare for things like this," owner Jordan Klasek said. "But also give people a feel for what it was like to go through that catastrophe and know that the workout, as long or short as it will be for that person, is nowhere near nothing of the magnitude of what those people went through."
The help continues with Pinnacle Bank Arena. American Red Cross volunteers will be present at the James Taylor concert Saturday with buckets for cash donations at the entrance to the venue.

And it doesn't just stop with the big. Little ones have been showing they can help, too. Mia and Avery set up a lemonade stand in south Lincoln Friday. They raised about $100.

"We can't imagine what it'd be like for them actually being in a tornado and losing everything they've had," Mia said.

"I hope like it gets people a lot of stuff that they need, like a house, to build a house and some clothes," Avery added.

If you'd like to donate to Midwest Bank, you can at any branch or online here.

Again, the fundraiser at Cornhusker CrossFit located at 4620 Hartley Street will be held Saturday from 8 a.m. to noon. If you can't make it, but would like to donate, they'll be accepting donations until Thursday, June 26.