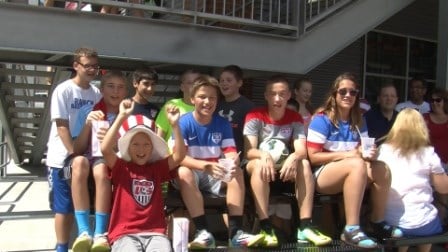 By: Lauren Fabrizi
lfabrizi@klkntv.com

Downtown Lincoln and the West Haymarket District was a sea of red, white and blue Sunday as the USA took on Portugal in its second match of the World Cup.
Future soccer stars Cece Podraza and Brea Kreikemeier spent the day watching the pros in the Haymarket.
"My heart like flutters, and my stomach," Brea said.

"I just get really happy, it's a fun experience," Cece added.

Zachary Lind made the trip all the way from Kearney to watch with his friends. The Nebraska Wesleyan graduate played soccer in college.

"It wasn't like this four, eight years ago when only soccer players watched," Lind said. "It's finally becoming a big sport, so it's just awesome for everyone to come together."

Hundreds of fans piled into the Railyard decked out in flags, beads and bandanas, with nothing but high expectations.

"I think it'll be a good game, pretty close," Nick Petersen of Lincoln said.

Added Jerry Lund of Seward: "Alotta red, white and blue. Alotta USA soccer fans, it's getting really great up in here."

About 2,000 more watched from Pinnacle Bank Arena. Most were expecting a win after the team made a two–goal comeback. But, Portugal made the most of the last 20 seconds of the game.

"We got the outcome we needed," Lind said. "I'm not going to let that be a factor in the whole result of the game."