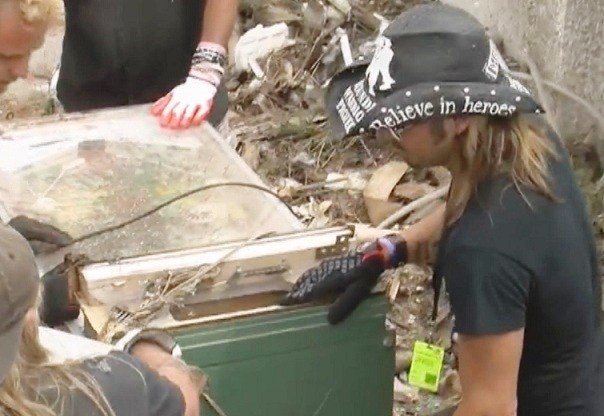 Posted By: Jenn Hatcher
Jhatcher@klkntv.com

Tornado ravaged Pilger had a special visitor Monday.

Poison front man, Bret Michaels stopped by.

He's passing through the state for a show in Valentine, Tuesday.

So he used his downtime to lend a helping hand.

"There is no place in the world I'd rather be than right here helping out," says Michaels.

Michaels greeted the people with hugs, hand shakes and even signed debris from a house, no longer standing.

The singer, who has a sister who lives in Bellevue, also toured the village and got a peak inside the old school.

Michaels says, "When you see something on TV it's devastating, but when you actually get to see it and feel it and talk to the human lives that were affected it is really emotional for me, I got really emotional."

After touring the school, the crew got to work, mostly cleaning a rubble filled basement.

Pilger resident, Jodi Slonecker was overjoyed to see the rocker, "He's down there digging people's basements out, I mean that is amazing. That's awesome."

But Michaels, his band mates and his roadies are even more amazed at Nebraskans willingness help their neighbors.

Keyboardist Rob Jozwiak says, "It's amazing, I'm amazed to see how many people came from different towns to help here."

Michaels says he also plans to make a large monetary donation through his Life Rocks Foundation.

He also announced, he's planning a benefit show for the people of northeast Nebraska, affected by the tornadoes.

_______
At a town hall meeting Monday morning, residents learned the village will allow homeowners to return at 8 p.m. tonight. Homeowners will be allowed to come and go freely versus only designated hours.