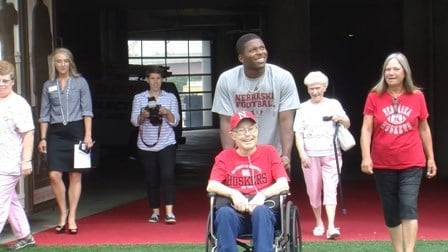 By: Hannah Paczkowski
hpaczkowski@klkntv.com

For Dennis Linden, being a Husker fan isn't a hobby, it's a lifestyle. Since the 1950's, Dennis has been to 331 out of 333 sell-out football games. Many were watched from his usual seat in section 36-B.
"I haven't missed two since '62, I don't know about before that for sure, but I don't think I've missed hardly any, if any," Dennis said.
Today, one of his dreams came true. He got to see Memorial Stadium like he never has before, with the help of a familiar face, quarterback Tommy Armstrong.
"That's something else, it's not like looking down," Dennis said.

Dennis isn't just a Husker football fan, he's been to almost every basketball game for almost 40 years, until recently. Monday, he got to see the Devaney Center from behind the scenes, and for the first time, the Pinnacle Bank Arena.

Tabitha Hospice worked with the university to help Dennis check the inside tour off of his bucket list.

"Tabitha's all about helping people make memories, that's exactly what just happened today," Tabitha Hospice vice president of marketing communications Jennifer Knecht said.

It's a memory Dennis said is one of his favorites as a die-hard Husker fan.

"It's pretty up there, it's in the top 10, I'll tell you that. Go Big Red!" he said.