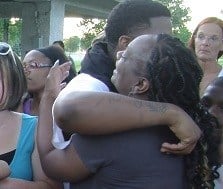 By: Bill Schammert
bschammert@klkntv.com
Dozens of friends and family members gathered at Antelope Park in Lincoln on Monday night to remember Earl Richardson III. Police say Richardson was gunned down Friday night near 27th and N Streets.
His mother, Lisa Fletcher, says Richardson will be remembered as a kind-hearted father of two who was on the brink of turning his life around. Evident by the nearly 100 people that showed up, she says the 31-year-old always knew how to light up a room and had a great sense of humor.
Now, after Lincoln's fourth homicide, she's calling for an end to gun violence.
"It's just not necessary," she said. "Why are you riding around in your car with a gun? To me, it tells me you're looking for something. If you have a gun, something is bound to happen. I think the main thing is, we shouldn't carry weapons with us."
Unfortunately, Fletcher says the family hasn't made funeral arrangements because they can't afford to bury Richardson yet. If you'd like to help, funds have been set up at Wells Fargo Bank and Wyuka Cemetery under the name Earl Richardson III.