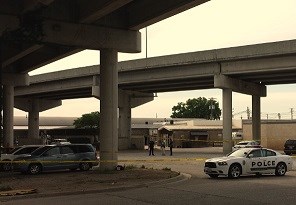 By: Kayla Bremer
kbremer@klkntv.com

Mark Wenzl was out for a ride on his motorcycle Tuesday night doing what he loved when his life tragically came to an end.

The 19–year–old recently moved to Seward but lived in Lincoln and attended North Star High School.

"He had a heart of gold," friend Taylor Cvitak said. "He would do anything to help anyone and he always had this big smile on his face."

Police say Wenzl was riding on the Rosa Parks overpass towards downtown when he suddenly hit the concrete barrier. He was ejected and fell to a parking lot below the viaduct.

Police initially thought it could have been a hit and run, but ruled it out after finding no indication of an impact on his motorcycle.

"We're uncertain whether he simply lost control of his motorcycle or whether there was another vehicle and he took evasive action," Officer Katie Flood said.

Cvitak says Mark loved to have a good time and was always trying to make people laugh and smile. She says she'll always remember the last day they spent together.

"I'd seen him two days prior and he was at my house and before he left he gave me a big hug like he always did," Cvitak said. "I just didn't think anything like this could happen."

Police are still asking anyone that was on Rosa Parks Way around 5:00 p.m. Tuesday to contact them. Any information you can give can be helpful.

By: KLKN Newsroom
8@klkntv.com

UPDATED INFO: Lincoln Police have identified the victim of Tuesday evening's fatal motorcycle accident as 19-year-old Mark Wenzl of Seward.

Police say Wenzl was riding eastbound on Rosa Parks Way. They say he was going through the curve in the roadway when he hit a concrete barrier. He was ejected and fell to his death below the viaduct. Police say there's no indication that he was hit by another vehicle. However, they are looking for any witnesses who saw the accident to complete their investigation.

---------------------------------------------------------------------------------------------------------------------------

Police are saying a motorcycle accident that happened near downtown Lincoln may be a hit and run.

The Tuesday evening accident left one man dead.

Officials say around five o'clock a motorcycle was headed towards downtown on the Rosa Parks Way overpass.

Somehow the rider fell off his bike and landed below the viaduct, in a parking lot near 7th and J streets.

He was killed instantly.

Police found the bike, up above, hundreds of feet from where the man landed.

But they haven't found anyone who was involved in or saw the crash.

LPD captain Danny Reitan says, "We really do want to talk to people in person to help us clear this up because if there was more than 1 vehicle involved in this crash than we have a possible crime with a hit and run."

Police are not releasing the victim's name.

They're investigating and recreating the scene.

They do want anyone who saw something, to say something, you can call the police non-emergency number at 441-6000 or crime stoppers anonymously at 475-3600.