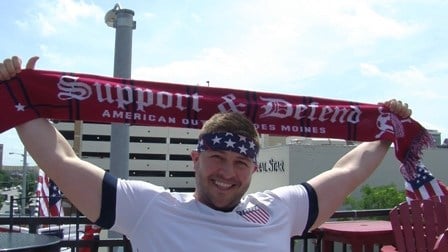 By: Hannah Paczkowski
hpaczkowski@klkntv.com

It's no secret who many people in Lincoln were cheering for in the World Cup, Thursday. The supporters of the stars and stripes were decked out from head to toe, all to watch the U.S. take on Germany.

"I've hugged a lot of people that I don't know. When we score goals, beverages kind of fly in the air and you leave smelling like whatever was thrown at you," American Outlaws Lincoln Chapter president Nick Verlaney said.

The American Outlaws are a national U.S. soccer fan club that started in Lincoln. Thursday, the held a watch party at Barry's Bar and Grill near 9th and P Streets.

In the Haymarket, hundreds of soccer fans watched the game from the Pinnacle Bank Arena. Across the street, several fans packed the Railyard. Kenny Beranek said he isn't messing around when it comes to his team USA spirit. He watched the past couple matches in the Railyard.

"There was electricity in the air and it was just fun and exciting and I recommend it to everyone that comes out here," Beranek said.

The U.S. was not victorious in Thursday's match against Germany, but Verlaney said he's still proud of his team.

"What they've done in the matches so far has been incredible. I'm always proud of this team," he said.

The U.S. is moving on to the next round in the World Cup. The American Outlaws are holding another watch party at Barry's Bar and Grill, Tuesday July 1 at 3 p.m.